25 Aug

Restore Your Smile with Teeth in a Day

Are your missing or loose teeth bringing down your confidence? Some dental procedures take months to complete, while others may be very costly. Teeth in a Day is the perfect solution to bring life back into your smile, transforming your teeth in a single day without breaking the bank.
What is Teeth in a Day?
Teeth in a day is a restorative procedure replacing all teeth in an entire arch. Through careful planning, I remove the remaining non-restorable teeth, place implants in the jawbone and attach them in a single appointment. The field of dentistry is always evolving which is why I advocate for procedures like Teeth in a Day, providing long-term solutions to your dental needs. Teeth in a Day implants look and feel like natural teeth. Whether you have lost or deteriorating teeth in need of restoration, Teeth in a Day might be the answer to your dental worries.
Who is Teeth in a Day for?
Anyone who cannot tolerate traditional dentures, wants to replace multiple non-restorable teeth, or those who have missing teeth make great candidates for Teeth in a Day.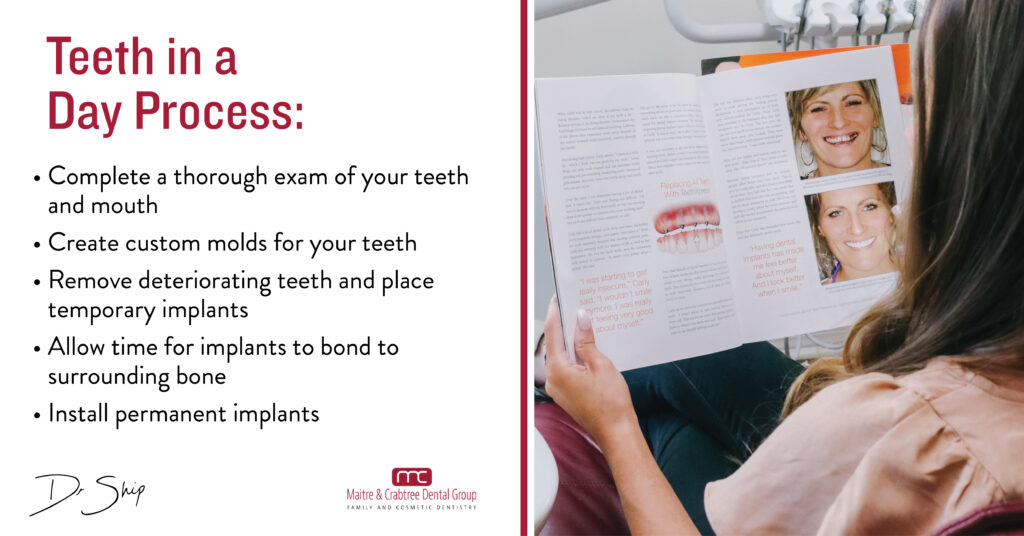 What are the benefits of Teeth in a Day?
Compared to traditional dentures that can take months to install, Teeth in a Day replaces entire sets of teeth in one day, streamlining the denture process. Teeth in a Day implants are more stable than traditional dentures which have no root-like structure to anchor bone, and they do not slide out of place, making it easy to chew and swallow food.
What are next steps?
If you believe you're a good candidate for Teeth in a Day, schedule a consultation with me to discuss your options. I'll restore your teeth's natural look and leave you feeling confident.
Booking a consultation is the first step to achieve the smile you've always wanted. Teeth in a Day is a long-term investment for your dental health, giving you lasting results you can't help but smile about.